There's a storm a-brewin' with the sounds of thunder! This past weekend, Crystal Lake Thunder in their inaugural year made their competitive debut in Indianapolis, IN for the WGI Indy Regional!
In prelims, with their 2017 production entitled "Spanish Rose," Thunder scored 72.20 in the Independent Marching A Class. Then conquered Finals with a score of 74.20.
In preparation for the BIG weekend and debut, we TRACKED down and interviewed a few members from Crystal Lake Thunder about their trajectory towards the Indy Regional and the rest of the season.
Hear from the Cast
Nicholas Chung, Inaugural Member, Tenor
An overview of the season thus far (Auditions to Indy)
Crystal Lake Thunder has been working very hard to improve as performers while striving to make our show as good as possible. The season thus far has been difficult as many of us are rookies or first years to WGI, so we still don't know the full light at the end of the tunnel or what the endless amounts of reps is for. Crystal Lake Thunder has rehearsals once a week, and even though we see each other once every Saturday, the organization has done an outstanding job at bringing together young adults from all over and having them bond together like a family.
What's the show?
Crystal Lake Thunder's 2017 show is "Spanish Rose" where a young man is deeply in love and intrigued by a young woman and wants to be with her. The show goes from determination of love, then to starting the relationship. The show then goes to the two performers displaying their new found love for one another, then finally to the passion and fire behind a relationship which is love.
What's your character/role in the show?
My character/role in the show as a Tenor player/battery member is to display the young man's emotions, determination, playfulness and desire, and love. This is achieved with emotion with the eyes and movement, and of course, a soft smile.
How are you feeling about Indy?
I am really looking forward to Indy. As I have played in my high school marching band, I would have never predicted that I'd be competing at such a huge WGI competition as the Indy Regional. I am also very nervous, but I know that all the preparation and the work from our drum and visual techs has led me, and all of Crystal Lake Thunder, to put on the best show that we possibly can.
What should the fans/audience be looking for?
The audience should be looking for the story. The story of young love and they should try to relate that to their lives and what they might have felt or are feeling when they had that moment that they knew they were in love. We have put in a lot of time and dedication into this show, and we are hoping that the fans/audience enjoy it and can relate to it.
Emily Thierry, Inaugural Member, Cymbals
What's the show?
Our show this year is entitled "Spanish Rose" and it's based on a love story with 4 colors of roses which define what each movement is about. Orange stands for desire, yellow is joy, pink is admiration, and red is love. I play the role of the girl who falls in love. In the beginning of the show I essentially play hard to get, while my counterpart tries to win me over. As the movements go on, I show more interest and gradually start to fall in love by Pink.
How are you feeling about the weekend?
I feel really good about our first performance at Indy, we have a lot to bring to the tarp and this is our opportunity to give Crystal Lake Thunder a name for itself. It's completely different from any marching activity I've ever done, but I've taken so much that I've learned from DCI and applied it towards WGI.
What should the fans/audience be looking for?
The audience should definitely be looking for the progression of the storyline and how the music fits with it, for example the first movement is very aggressive and fast, symbolizing the determination of my counterpart to win me over.
Tyler Stewart, Inaugural Member, Snare
An overview of the season thus far (Auditions to Indy)
Auditions took place in the Fall, and I have to admit it was an interesting start. Being a brand new group, a lot of prospective students didn't know what to expect or really what to aim for. However, as the group was selected and we started to work through show music, things took off exponentially. Since the moment we walked into Striker hall for the first time, the group has quickly become a close knit family. February saw the greatest amount of progress, where we finished up the ballad marking 3/4ths of the show being complete. Now as we head into Indy, we're all incredibly excited to show off what we've been doing for months behind closed doors, and we are even more excited for the months to come as we continue to hone our skills, clean the show, and represent The Cavaliers and Crystal Lake Strikers.
What's the show?
The show is based around two of our Cymbal players as they fall in love. The first movement shows Emily noticing Kris, but playing hard to get. The second is more playful as Emily warms up to Kris, and the third marks Emily falling in love with him. (There is a fourth movement, however we prefer to keep that under wraps for now!)
What's your character/role in the show?
The rest of the ensemble is really taking on the roll of the onlookers and conveyors of emotion in the show. In the opening moments we watch as Emily notices Kris, and throughout the show we convey the tension and release of the blossoming relationship between them.
How are you feeling about Indy?
I'm incredibly excited for Indy! This will be our first floor show ever, and I think we are really going to turn some heads. The group has been putting in a lot of work behind the scenes to make sure that we stand out in our class.
What should the fans/audience be looking for?
The audience should take note the composition of the show; which was done by Alan Miller, the same composer who writes for Cavaliers Indoor among other great groups. Alan's writing is distinctly Cavalier, and the challenges presented both technically and musically by his writing create something that is sure to stand out among the competition.
Paulina Grzybowicz, Inaugural member, Front Ensemble
An overview of the season thus far (Auditions to Indy)
The season has been going by so quickly! The whole group has been working hard to get the show on the floor and we've made a crazy amount of progress. It's very cool to see a group of such determined and talented musicians work together both off and on the floor to make the show its best.
What's the show?
The show is titled "Spanish Rose." It explores the relationship between two characters represented by our cymbal players, Emily and Kris, and takes the audience through the ups and downs of Kris's journey to get the girl, all with a Spanish twist. Each movement is represented by a different colored rose (orange, yellow, pink and red) that represents a different aspect of love. The show is all about confidence, passion, and falling in love.
What's your character/role in the show?
The front ensemble and drumline definitely play major supporting roles in the storyline. As spectators to their relationship, we outline the emotions behind every movement.
How are you feeling about Indy?
We are more than ready for Indy! We've been working hard, and it's exciting to have a chance to show off and perform in front of an audience. We only have a few performances this season, so you can bet we'll be leaving everything we've got on the floor!
What should the fans/audience be looking for?
Don't miss out on some of the cool stuff going on in the Pit! The show is filled with piano solos, and the front is super excited to show a more musical side to the show during the ballad.
Jalen Bell, Inaugural member, Snare
An overview of the season thus far (Auditions to Indy)
So far it's been a lot more challenging than I would ever have gotten out of high school marching band and I'm really enjoying getting all this experience with what I consider to be my own group.
What's the show and your role/character?
The show is my Spanish heart lol which is entitled, "Spanish Rose." It's a story of a romance between two people, and
my character is a spectator to this romance so there's not much else I can say there.
How are you feeling about Indy?
I can honestly say I don't really know what to expect out of Indy. As this will be my first foray into truly competitive marching, I feel that our show is really getting tight and that we'll be able to put on a good show befitting of a Cavaliers affiliate.
What should the fans/audience be looking for?
I'd have to say that the audience has to really get into some tasty paradiddles but I'd also say that's a pretty easy thing to do.
Let's Talk About the Regional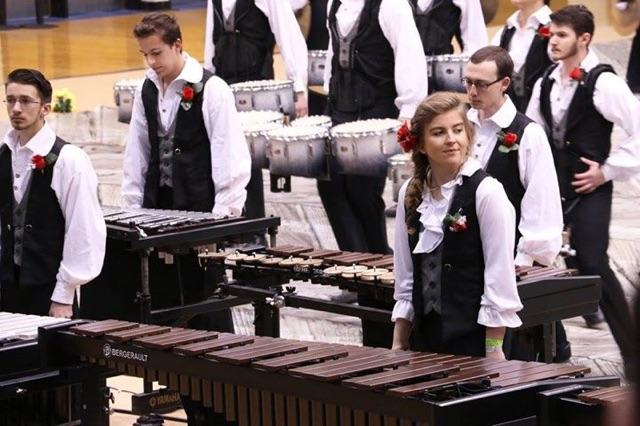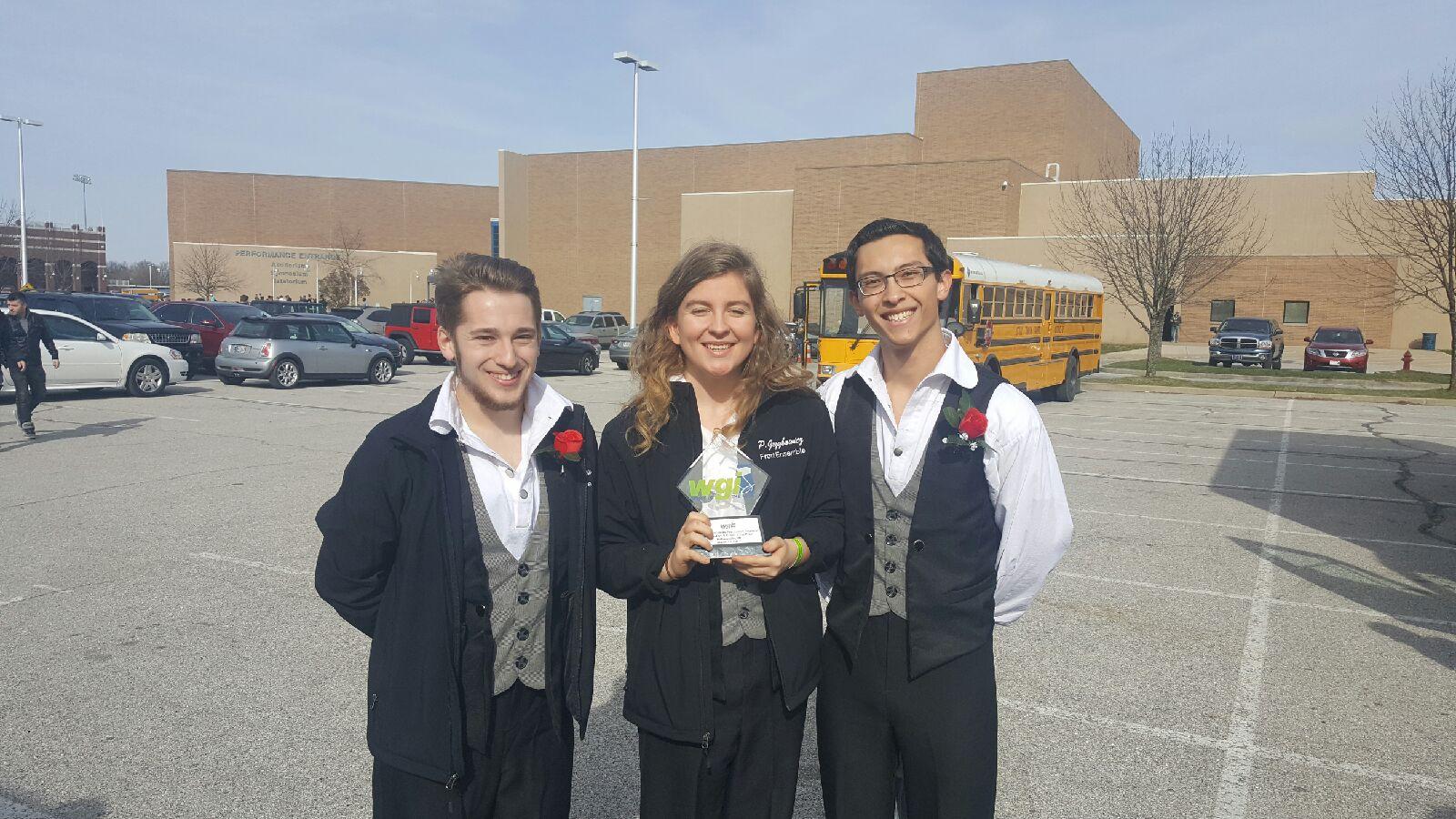 How was the weekend?
This weekend was a very exciting and fun experience that I got to share with all of Crystal Lake Thunder. It was definitely packed and for my first ever competition. Our first performance was good, but all of us knew that we could do better at finals and that translated to how we went about at rehearsal and our emotions throughout the rest of the day. The next day (finals day) we left for the show site and we all had a positive mentality and gave the show all we had. That show was one of our best run-throughs as we fed off of the audience's energy and transferred it to our performance. Overall, the weekend was really good for being able to perform and to bond as an ensemble. - NC
I think the weekend went fantastic! I've never actually been to a WGI show, so having my first opportunity to play in my first WGI show ever was unbelievable. This was an experience I'll never forget and I've learned a lot about our group as a whole and what I can do. This season has taken me so far out of my comfort zone with the entire show, but I love it! - ET
The weekend went really well. Between our finals run and our time with Cavaliers Indoor, the weekend was a blast! - TS
The weekend was amazing! It was a majority of the group's first WGI experience, and it exceeded all expectations. Playing in prelims and finals reminded me why I love performing so much. It was great to connect with the group, the audience and the music and present a show that means a lot to me. - PG
This weekend has been so good for me; I got to get a real performance experience, I got to see all the higher level groups perform, and I got to meet some of the Cavaliers Indoor Percussion members. To be really honest, it was that final experience with CIP where I really got excited. Before it almost seemed that they were these unobtainable experienced and technical gods but after meeting them it really got me excited because they were no longer gods, but just hard working guys and that really got to me because I realized that I could be that one day. - JB
Anything unexpected?
As I am a rookie, I knew that I wouldn't have a lot of downtime. However, I realized that there is always something to be doing so I rarely had time to rest. This is not a bad thing because it enhanced the whole experience of the weekend. - NC
The only unexpected thing that happened was being able to do our full run-through for CIP, I totally didn't expect them to show up during our rehearsal, but getting to show them what we accomplished was awesome! And hearing their feedback of what they thought of our show made me more confident in what we could do. - ET
Nothing unexpected, however it was a bit different sleeping in cabins, as I'm more used to gym floors on these sort of trips. It was a welcoming change and it brought the group much closer together. - TS
Crystal Lake Thunder was able to meet up with CIP this weekend, and it was a cool experience! We got some insight from a group we really look up to, and it was a very memorable part of the trip. We also had the opportunity to watch a majority of the finals performances on Sunday, and some of the shows blew me away! In general, it was great being in a building full of people who share a passion with you. - PG
What's next?
The rest of the season will be highly focused on show and skills, putting together the last part of our show, adding some choreography, and just cleaning and fine tuning everything. This trip has given us the opportunity to bond and developed our skills on when to be serious and when we can be social and joke around. - NC
As for what's next, I know we have a lot of work to do before Dayton, but our biggest thing is going to be getting the rest of the show on the tarp and getting those clean beats! - ET
Now we are focusing on learning the remainder of our show, and then polishing everything for Dayton. It's gonna be a sprint to the finish, and I think after seeing what the payoff is, we're ready to push all the way until the last second to make our show great! - TS
The group is now more experienced than ever, and closer than ever. We're ready to put the rest of the show on the floor, and do everything we can to prepare for Dayton! The performance experience and feedback from the judges is going to help the group immensely, and I can't wait to see how much we're going to grow in just a month. I think this weekend inspired and motivated every member of CLT, and gave everyone an idea of what it is we are working towards. - PG
Our next move as an ensemble will be to get our 4th and final movement into our hands and onto the floor and then clean it all up for Dayton. I expect to learn a lot from having groups of comparable skill to be judged against and I look forward to performing once more for a big audience in a month's time. - JB
Next Stop For Crystal Lake Thunder:
WGI Dayton Championships
About Crystal Lake Thunder
Crystal Lake Thunder is an affiliate program of The Cavaliers presented by Crystal Lake Strikers of Crystal Lake, Ill. This new Independent Percussion ensemble will offer young male and female percussionists a competitive performance outlet in the Chicagoland area that builds on the shared resources, style, and excellence of The Cavaliers' award-winning programs and ensembles.
clstrikers.com/thunder
About Crystal Lake Strikers
Crystal Lake Strikers, based out of Crystal Lake, Ill., is a performing arts organization that focuses on providing a performance outlet for musicians while supporting and educating young people. Programs include Crystal Lake Thunder (affiliate program of The Cavaliers), Convergence Winter Guard, Strikers AllStars, Girls on the Drum, and the Crystal Lake Strikers Drum Line.
Founded in 1948 from Boy Scout Troop 111, The Cavaliers are one of the most successful drum and bugle corps in history, winning 20 national championships, including seven Drum Corps International world championships since 1992.
The Cavaliers provide a variety of educational and performance programs for young people, including GearWORKS, Cavaliers Indoor Percussion, and Chromium Winds. The organization delivers life-changing experiences that go beyond music and performing arts to build personal accountability, excellence, teamwork, and camaraderie.
The Cavaliers Drum & Bugle Corps is a 501(c)(3) not-for-profit organization sponsored by The Village of Rosemont, Illinois.